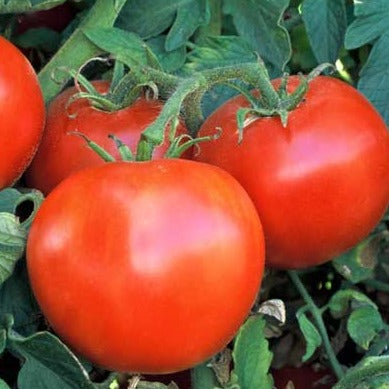 Tomato Seeds Wisconsin 55 (Heirloom)
Matures in 75 days. This is semi-deteminate variety which means it will continue to produce through the season but not over grow like an indeterminate variety. Well in theory. It was developed at the University of Wisconsin during the 1940's to have resistance to Early Blight and Leaf Spot. That is why I am growing it this year. It produces a good amount of red round 4-8 ounce tomatoes. It was designed to not only be resistant to blight but also grow in cooler areas. Perfect for cooking, canning, salads and eating.
I sell my tomato seeds by the pinch which is about 30-50 seeds. Plenty of seeds for a few years when stored properly.
START INDOORS: 6-8 weeks before the nights reach 50 degrees Fahrenheit.
GERMINATION: 5-10 Days
PLANT OUTDOORS: 24"-36" Apart
LIGHT: Full Sun
For planting instructions I direct everyone to the Farmer's Almanac. They are clear and concise and cover all care needs. You can find a link under the Blog & Video tab.
All my products are hand packaged by The Rusted Gardener himself. 
I am only shipping items to the USA,  Australia, Canada, United Kingdom and India at this time. Discount codes are located above the Sign-In or Create Account buttons.
International shipping rates apply to all orders outside the USA. I can not be responsible for lost International orders, please select tracking. Sorry.