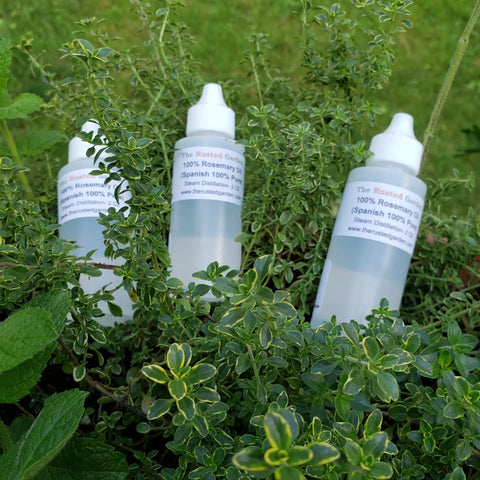 2 Ounces of Rosemary Oil (Spanish) for Insect Management
One 2 Ounce Dropper Bottle of Rosemary Oil 
(Spanish Essential Oil 100% Pure)
(Currently this product cannot ship outside of the USA - our apologies)
Contents:
One - 2 Ounce Dropper Bottle with Lid (as seen in picture)
(2 ounces total)
I use Rosemary Oil to mask the scents of my plants. This is done to prevent 'bad insects' from following plant pheromones/odors to targeted plants. When a plant is pruned or damaged insects can actually smell that and come to feed.
Basically the unwanted bugs find your garden plants by scent.
You are hiding your garden plants with Rosemary Oil.
I have found it also beneficial at repelling and managing spider mites and aphids.
It has really been effective on my squash and cucumber plants.
A basic recipe is 1 drop of Rosemary Oil per 2 ounces of water. This is great for small batches. You can use 1/2 - 1 teaspoon of Rosemary Oil per gallon of water. Use just enough soap in your batches to help disperse the oil through the water when shaken.
2 ounces of oil is about 1200 drops according to conversion websites.
2 ounces of oil will make 12-24 gallons of spray based on using 1/2 or 1 teaspoon.
Mixed Spray is good for at least 1 week.
Rosemary Oil can last 3 years.
I am only shipping items to the USA,  Australia, Canada, England and India at this time. Use the Codes found above the Check-Out Cart symbol for Discounts to save up to 15%.
International shipping rates apply to all orders outside the USA. I can not be responsible for lost International orders, please select tracking. Sorry.