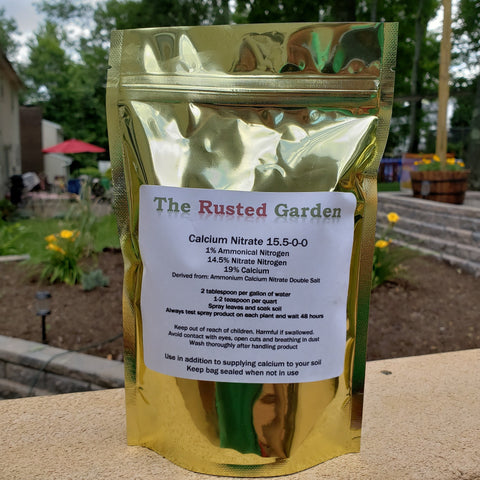 12 Ounces of Calcium Nitrate for Managing Blossom End Rot
Calcium Nitrate 15.5-0-0
19% Calcium and Water Soluble!
Quickly get calcium to your vegetable plants!
$11.95
Calcium Nitrate can be used to
Stop Tomato Blossom End-Rot
Stop Pepper Blossom End-Rot
Use as a Fast Acting Foliar Spray
to stop and prevent Blossom End Rot

The recipe is on the label & can be found on-line
Always test spray your plants and wait 48 hours
12 ounces will make
about 12 gallons
or over 50 quarts
1 quart costs about $$6-$9
when you buy pre-made calcium store sprays
Make your own and save over $300
Indefinite shelf-life if kept dry in the bag
I am only shipping items to the USA,  Australia, Canada, England and India at this time. Use the Codes found above the Check-Out Cart symbol for Discounts to save up to 15%.
International shipping rates apply to all orders outside the USA. I can not be responsible for lost International orders, please select tracking. Sorry.