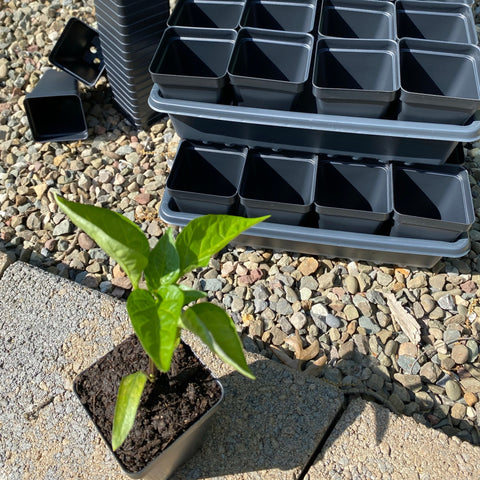 2 1/2" Square Pots (64)Two Flats NO HOLES - Enough for 64 Seed Starts
This kit will allow you to grow 64 seed starts with our newest pots.  These are square pots measuring 2 1/2" inches across.  This will limit the need to pot up.  Each individual pot measures 2 1/2 L x 2 1/2 W x 3 1/2 H
You will get 2 flats with no holes in the bottom and 64 of the 2 1/2" stand alone pots.  Each tray fits 32 of the square pots nicely.  The pots have holes on the bottom to allow you to bottom water which is what we recommend for seed starting. These are great, especially when giving away your extra seed starts or doing your own seed start sale! 
 I am only shipping items to the USA,  Australia, Canada, England and India at this time. Use the Codes found above the Check-Out Cart symbol for Discounts to save up to 10%.
International shipping rates apply to all orders outside the USA. I cannot be responsible for lost International orders, please select tracking. Sorry.