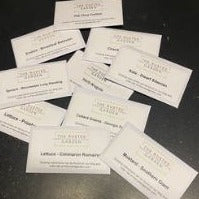 10 Pack - Leafy Greens
This package provides you with plenty of options for the cool weather with some of our favorite leafy greens. Cool weather crops thrive in 40–50-degree nights and 60–70-degree days. It many areas you can grow these in the spring and fall. These are the same seeds and quantity as found in the single seed packages but at a great discount. 
You get a packet of each of the following seeds:
Arugula
Chard - Perpetual
Collard Greens - Georgia Southern
Endive - Broadleaf Batavian
Kale - Dwarf Siberian
Lettuce - Cimarron Romaine
Lettuce - Prizehead
Mustard - Southern Giant
Pak Choy - Canton
Spinach - Bloomsdale
If an item is out of stock, we will substitute a similar variety.
For planting instructions, I direct everyone to the Farmer's Almanac. They are clear and concise and cover all care needs. You can find a link under the Blog & Video tab.
I am only shipping items to the USA, Australia, Canada, England and India at this time. Use the Codes found above the Check-Out Cart symbol for Discounts to save up to 15%.
International shipping rates apply to all orders outside the USA. I cannot be responsible for lost international orders, please select tracking. Sorry.