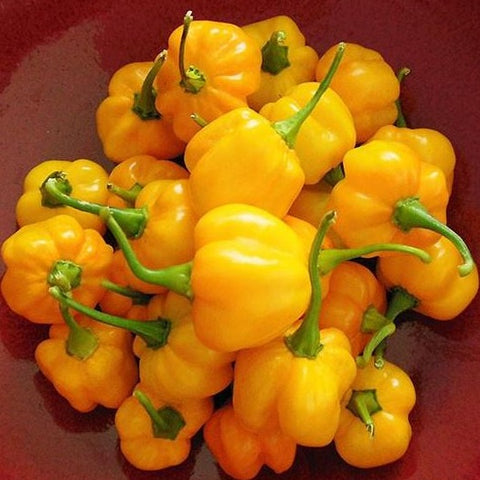 Pepper Seeds Scotch Bonnet Yellow (Heirloom)
Too hot to handle at over 100.000 Scoville units. This variety is for serious heat lovers. It does make a beautiful plant and it is very productive in containers. Peppers are green before ripening to yellow. Scotch Bonnets are the most popular of the Caribbean peppers. 100 days to maturity. Heirloom.
About 30 seeds per pack.
Peppers can be grown all year long in containers. The best planting time is when nights are 50+degrees Fahrenheit and days are 70+ degrees Fahrenheit. They enjoy the heat.

START INDOORS: 8-12 weeks before night reach 50 degrees Fahrenheit.
GERMINATION: 10-14 Days
PLANT OUTDOORS: 12-24" Apart
LIGHT: Full Sun
For planting instructions, I direct everyone to the Farmer's Almanac. They are clear and concise and cover all care needs. You can find a link under the Blog & Video tab.
All my products are hand packaged by The Rusted Gardener himself. 
I am only shipping items to the USA, Australia, Canada, United Kingdom and India at this time. Save 10% on all orders over $40. Save 15% on all orders over $60. Discount codes are located above the Sign-In or Create Account buttons.
International shipping rates apply to all orders outside the USA. I cannot be responsible for lost international orders, please select tracking. Sorry.