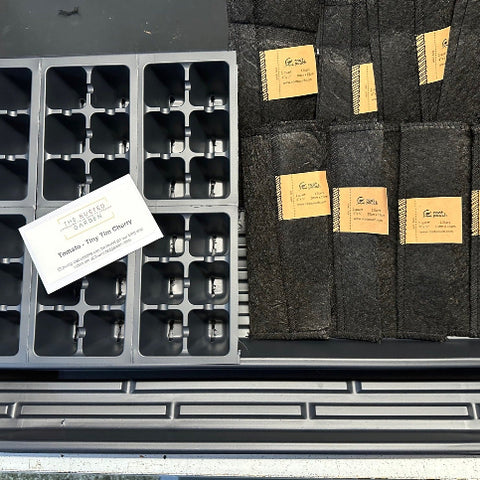 Dwarf Tomato (Tiny Tim) Indoor Growing Kit
This set is for 8 one quart root pouches, two flats, 6 units of the standard size seed cells (enough for 36 seed starts), two flats and a pack of Tiny Tim seeds.  You can grow 8 Tiny Tim's with the indoor method Gary shows in his video link below.
How to Grow Dwarf Tomatoes Indoor Using White LED Shop Lights: All the Steps & Growth Examples!
We have been looking for a grow bag that we could get behind and we found it!  Not only is the Root Pouch a great product to support the root life of your garden plants.  They can be used season after season and their environmental impact is huge. 

There are several reasons these are great for the environment. The first is that these bags are made from recycled plastic bottles keeping them out of the oceans and landfills.  Second, they are much easier to ship then equivalent sized plastic pots which greatly reduces their carbon footprint.  And finally, they are UV resistant and BPA free.

Take a look below to see why we love them.  These have already been used and tested by Gary in his garden, the pictures below are actual Rusted Garden Root Pouches in use.  
Better for the plant
Better for the planet
Root Pouch fabric planting containers are made out of
recycled water bottles + natural fibers.
 I am only shipping items to the USA,  Australia, Canada, England and India at this time. Use the Codes found above the Check-Out Cart symbol for Discounts to save up to 15%.
International shipping rates apply to all orders outside the USA. I cannot be responsible for lost International orders, please select tracking. Sorry.