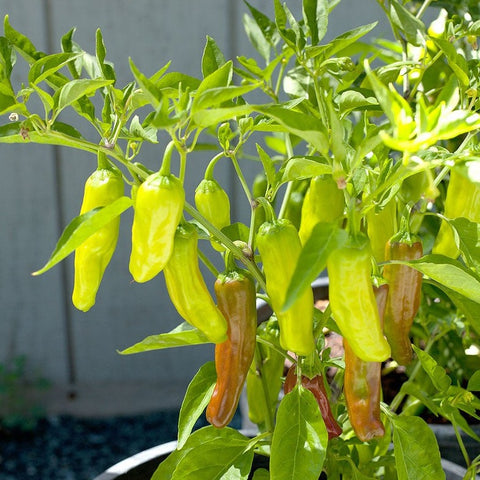 Pepper Seeds Greek Golden Pepperoncini (Heirloom)
Yellowish-green, Greek Golden pepperoncini is similar to those found at many restaurants. It is a bit hotter than your standard pepperoncini. Very prolific and early season fruits eventually turn red but should be harvested immature when yellow. Matures in 65 days. Great for containers. An heirloom from Greece.
1/8 of a teaspoon which is about 30 seeds.
Peppers can be grown all year long in containers. The best planting time is when nights are 50+degrees Fahrenheit and days are 70+ degrees Fahrenheit. They enjoy the heat.

START INDOORS: 8-12 weeks before night reach 50 degrees Fahrenheit.
GERMINATION: 10-14 Days
PLANT OUTDOORS: 12-24" Apart
LIGHT: Full Sun
For planting instructions, I direct everyone to the Farmer's Almanac. They are clear and concise and cover all care needs. You can find a link under the Blog & Video tab.
All my products are hand packaged by The Rusted Gardener himself. 
International shipping rates apply to all orders outside the USA. I cannot be responsible for lost international orders, please select tracking. Sorry.