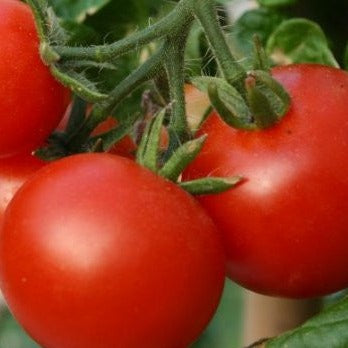 Tomato Seeds Marglobe (Heirloom)
Determinate (6 oz,) Red fruit with plants that get to 4-6 feet. Although a determinate it produce over a long period. An open-pollinated heirloom that was released by the US Department of Agriculture in 1925. It should be staked and if conditions are right it can produce up to 50 pounds of fruit!  However, I haven't achieved that yet. Matures in 75-80 days. Heirloom. 
I sell my tomato seeds by the pinch which is about 30-50 seeds. Plenty of seeds for a few years when stored properly.
START INDOORS: 6-8 weeks before nights reach 50 degrees Fahrenheit.
GERMINATION: 5-10 Days
PLANT OUTDOORS: 24"-36" Apart
LIGHT: Full Sun
For planting instructions I direct everyone to the Farmer's Almanac. They are clear and concise and cover all care needs. You can find a link under the Blog & Video tab.
All my products are hand packaged by The Rusted Gardener himself. 
I am only shipping items to the USA,  Australia, Canada, United Kingdom and India at this time. Discount codes are located above the Sign-In or Create Account buttons.
International shipping rates apply to all orders outside the USA. I can not be responsible for lost International orders, please select tracking. Sorry.
.