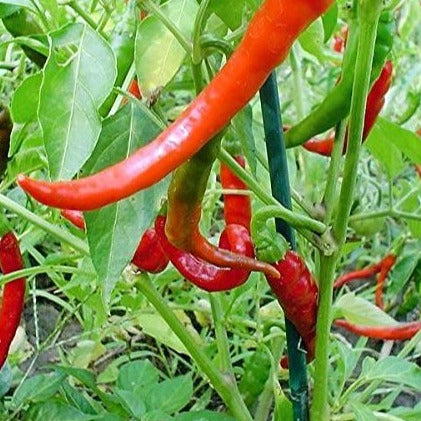 Pepper Seeds Cow Horn (Heirloom)
This plant comes from Mexico and produces curvy peppers up to 10 inches in length.  This is a higher yield plant and peppers will turn from green to red when maturing.  This typically takes about 90 days,

The heat on these is mild, similar to a jalapeno and falls between 2,500 and 5,000 on the Scoville scale.  This makes them great for stir-fries, sauces and other dishes where you want to add flavor without a lot of heat. 
About 30 seeds per pack.
Peppers can be grown all year long in containers. The best planting time is when nights are 50+degrees Fahrenheit and days are 70+ degrees Fahrenheit. They enjoy the heat.

START INDOORS: 8-12 weeks before night reach 50 degrees Fahrenheit.
GERMINATION: 10-14 Days
PLANT OUTDOORS: 12-24" Apart
LIGHT: Full Sun
For planting instructions, I direct everyone to the Farmer's Almanac. They are clear and concise and cover all care needs. You can find a link under the Blog & Video tab.
All my products are hand packaged by The Rusted Gardener himself. 
I am only shipping items to the USA, Australia, Canada, United Kingdom and India at this time. Use the Codes found above the Check-Out Cart symbol for Discounts to save up to 15%.
International shipping rates apply to all orders outside the USA. I cannot be responsible for lost international orders, please select tracking. Sorry.